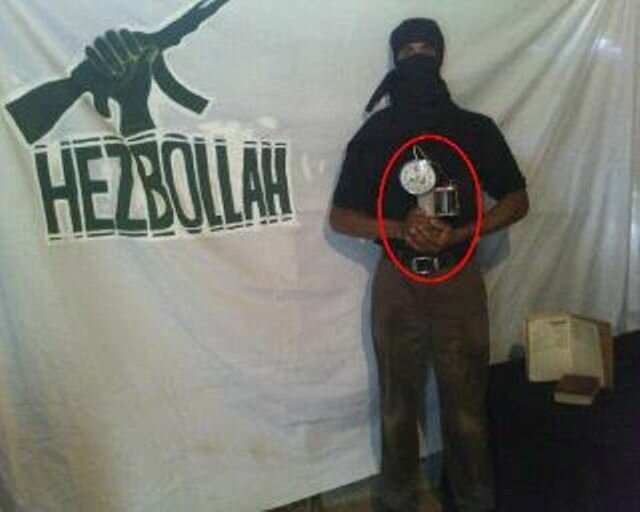 Hezbollah, whose radical Islamist agenda would seem to argue against alliances with the largely Catholic population of South America, have nonetheless made some handy alliances with the drug cartels and gangs of South and Central America. Although their activities began in the tri-border area at the junction of Paraguay, Brazil, and Argentina, their need to expand led them up through Central America and into Mexico where they found willing partners in the drug cartels and gangs.
GerardDirect has written about this before here and here. But the situation continues to get worse and the threat to our national security continues to grow.
According to the Arabic language Lebanese newspaper, Al-Mustaqbal,  the Mexican authorities recently arrested a Lebanese citizen, Rafic Mohammad Layyoun, for credit card fraud and money laundering to finance terrorist operations. Layyoun, who is a member of a Hezbollah cell in Mexico, is also a US citizen by virtue of his American passport.
While defense official have warned that al Qaeda also could use these trafficking routes to infiltrate operatives into the US, Hezbollah has been doing it for years. They have also been using the trafficking routes to build a lucrative cocaine business that helps support their terrorist activities. Mexico's illegal routes across the border now account for more than 90 percent of the cocaine entering the US, Mexico's drug cartels have an estimated 100,000 foot soldiers and billions of dollars to invest in this lucrative business.
According to US Border Control, "the World Trade Bridge between Nuevo Laredo and its sister city, Laredo, as well as Interstate 35 and Highways 59, 359 and 83, are like veins feeding the Mexican syndicates, running from southern Texas to cities across the U.S. and as far north as Canada". Using the same southern narcotics routes that Mexican drug kingpins have have developed to smuggle drugs and people into the United States, the Lebanese group is working directly with Mexican narcotics syndicates that control access to to the routes into the U.S.
This is not theoretical; it has been happening for the last decade or so, providing a growing terrorist threat within our borders and from inside our own communities. 
While the following story relates to the terrorist threat just across our southern border, there is little doubt that the menace of drugs and terrorism has been moving north into the US at a steady pace and presents a clear and present danger not only from Mexico, but from within our own country. Latest reports from southern California reveal that the drug cartels have now brazenly brought their violence across the border as they work directly with the gangs as far north as Los Angeles.The result is a growing rate of extortion, violent and vicious crimes, and the wider distribution of drugs. It will not stop there. The border states of Arizona, New Mexico, and Nevada are well on their way to being next in this brazen move on the part of the cartels to eliminate the middle man and work directly with the gangs in the US.

Those Americans who still still support open borders and unfettered illegal immigration from Mexico might well consider the threats posed by Hezbollah jihadis crossing into the US and melting into the swelling illegal populations of Islamists in communities throughout the country. It is only a matter of time before an event halfway around the world triggers the activation of the sleeper cells now being put in place in America, courtesy of our southern neighbor. 
——    Ilana Freedman, Editor
_______________________________________________
 Chiapas is one of Mexico's most exotic federal districts. But the magical forests, appealing Indian communities, colorful towns and intriguing archeological sites – that serve as main tourist attractions – hide a political hell.
In the mid-1990s, a leftist resistance group which calls itself The Zapatista Army of National Liberation (EZLN) made Chiapas its home. Its attempts to fight the Mexican Army repeatedly failed, but the Zapatistas are still very active in the district's rural areas. Chiapas is considered a dangerous place, where every home has an arms arsenal of its own; and like many other places in Mexico, Chiapas' streets have become the battlefield where the government and local drug lords wrestle for dominance.
Chiapas, however, harbors an even more sinister secret: It is also a hub of radical Islamist activity.
Catholic Mexico is in the midst of a crisis of faith. According to a local businessman, who asked to remain anonymous, it is widely believed that within a decade, Chiapas will be the first federal state in Mexico to turn its back on the Church.
"The Muslim missionaries are very active there," he said. "It's hard to know exactly how many people have converted to Islam over the past few years."
Official data suggests that Mexico is home to some 4,000 Muslims – a fraction in a country whose population numbers 115 million. Theoretically, this is a negligible number, but it is enough to cause concern in the United States – and Israel should be concerned as well.
US intelligence indicates that Mexico is home to some 200,000 Syrian and Lebanese immigrants – most of them illegal – who were able to cross the border via an extensive web of contacts with drug cartels, both in Mexico and in other countries in South America.
These cartel contacts smuggle illegal immigrants – including individuals affiliated with Iran, Hezbollah, al-Qaeda and other radical Islamist groups – into Mexico, placing them a virtual stone's-throw away from the United States.
Western intelligence agencies have been able to gather ample evidence suggesting that the drug cartels in Mexico – which are the de facto rulers of the northern districts bordering the US – are in cahoots with Islamic terror organizations, which are eager to execute attacks against American, Israeli, Jewish and western targets; but most of all, the Islamic terror groups are eager to make money, so they can fund their nefarious aspirations.
According to the indictment, Hezbollah is using Juma's cartel connections to minimize its dependency on Iranian funding. The international sanctions crippling Tehran's economy have taken a serious bite out of the $200 million in annual aid given to Hezbollah, but the latter's appetite for cash has only grown. Los Zetas' Beirut-based money man has reportedly helped the Shiite terror group meet its financial needs.
Iran denies any involvement in South America, but the US knows better. In 2010, a report commissioned by the House Committee on Intelligence found that the ties between Hezbollah and the Mexican drug cartels, as well as the Iranian link, were getting stronger.
The report found that Hezbollah was massively embroiled in drugs and money laundering deals, as well as in arms trafficking in and out of Mexico.
Furthermore, US intelligence concluded that Hezbollah has established sleeper cells, intelligence infrastructure and training bases in Mexico and other South American countries. The Shiite group is also helping the drug lords build smuggling tunnels under the US-Mexico border and satellite images show that they are nearly identical to the maze of tunnels running under the Gaza-Egypt border.
Hezbollah is also training the cartels' operatives in the dubious art of explosives, helping drug lords improve their bomb-making skills.
The committee found evidence that Hezbollah and Iranian Revolutionary Guard officials pick up fake passports in Venezuela – a close ally of Iran – prior to infiltrating the United States.
Earlier this year, former DEA Chief of Operations Michael Braun told CBS News that Hezbollah "are masters in creating close relationships with criminal organizations around the world."
A recent book by Latin America expert Jon Perdue details the dangers the US and its allies face as a result of the presence of radical Islamic terror groups in South and Central America. According to Perdue, Iran's proxies have been around long enough "to pose an actual threat" to the US should Israel mount a unilateral strike on the Islamic Republic's nuclear facilities.
The bottom line may prove to be a bitter pill to swallow for the US: It is very likely that in a few years, the US – much like Israel – will have to deal with its own Hezbollah presence, right across the border.   Read the original story here.